---
This Fly More Combo Includes:
• Mavic Pro aircraft
• 3 pairs of propellers
• Remote controller
• Gimbal clamp
• Charger and clamp
• 16GB MicroSD card
• MicroUSB cable
• 2x RC cables (Lightning and MicroUSB)
• RC cable slider
• Instruction manuals
• Mavic Car charger
• Battery to Power Bank Adapter
• Mavic Shoulder bag
• Mavic battery charging hub
• 2 additional intelligent flight batteries
The DJI Mavic Pro is a small yet powerful drone that turns the sky into your creative canvas easily and without worry,helping you make every moment an aerial moment. Its compact size hides a high degree of complexity that makes it one of DJI's mostsophisticated flying cameras ever. 24 high-performance computing cores, an all-new transmission system with a 4.3mi (7km) *range,5 vision sensors, and a 4K camera stabilized by a 3-axis mechanical gimbal, are at your commandwith just a push of your thumb or a tap of your finger.
NO BUMPS AND SCRAPES
PRECISION HOVER
4K ULTRA HD VIDEO
PHOTOS WITH ALTITUDE
FLY BY PHONE
TAPFLY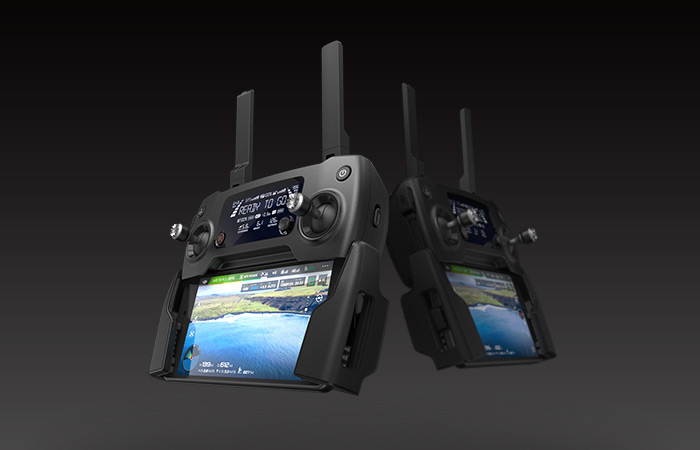 AIRCRAFT:
Folded
H83mm x W83mm x L198mm
Diagonal Size (Propellers Excluded)
335 mm
Weight (Battery & Propellers Included)
1.62 lbs (734 g) (exclude gimbal cover)
1.64 lbs (743 g) (include gimbal cover)
Max Ascent Speed
16.4 ft/s (5 m/s) in Sport mode
Max Descent Speed
9.8 ft/s (3 m/s)
Max Speed
40 mph (65 kph) in Sport mode without wind
Max Service Ceiling Above Sea Level
16404 feet (5000 m)
Max Flight Time
27 minutes (0 wind at a consistent 15.5 mph (25 kph))
Max Hovering Time
24 minutes (0 wind)
Overall Flight Time
21 minutes ( In normal flight, 15% remaining battery level )
Max Flight Distance
8 mi (13 km, 0 wind)
Operating Temperature Range
32° to 104° F (0° to 40° C)
Satellite Positioning Systems
GPS / GLONASS
Hover Accuracy Range
Vertical:
+/- 0.1 m (when Vision Positioning is active) or +/-0.5 m
Horizontal:
+/- 0.3 m (when Vision Positioning is active) or +/-1.5 m
---
Share this Product
---
More from this collection