---

Features:


XGA
DLP
Full HD Blu-ray 3D Support
4000 lumens
13000:1 contrast
1.07 Billion Colours
1 X VGA in
Monitor out
2 X HDMI
Optional Wireless (Qcast dongle)
RS232
1 X 2 Watt speaker
3.0 Kg
3 Yr RTB Unit Warranty
1 yr or 600hrs on lamp
Vivid Clarity in Bright Medium-Sized Conference Rooms
4,000 lumens of high brightness enable comfortable lights-on presentations to promote discussion, collaboration, and note-taking in larger meeting rooms with bright lights accommodating up to 20 participants. The high luminance lets even participants seated furthermost clearly see the slides and boosts picture quality with vibrant color for pictures and videos as well as crisp text and fine details.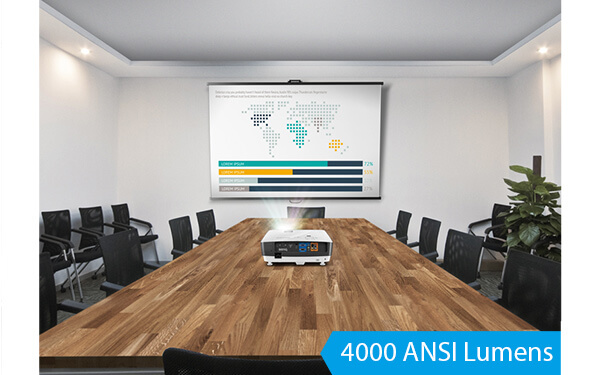 BenQ Business Projector MX704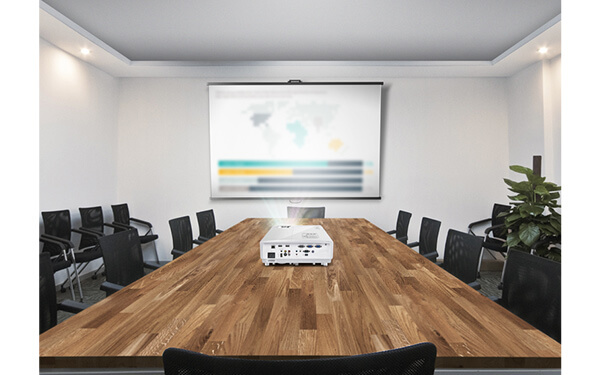 High Contrast for Clear Text
With industry-leading contrast and pixel fill factor, BenQ projectors produce the truest blacks and unmatched readability with every character, graph, and chart crisply defined. High fill factor increases clarity for black and white or color images and reduces eye strain for presenters and audiences to stay focused on the content.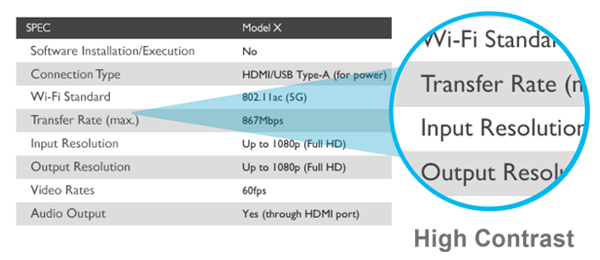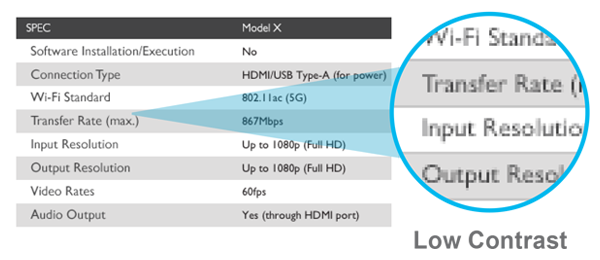 Wireless Presentation Capability
Eliminating cables to maximize mobility and presentation freedom in large meeting rooms, BenQ projectors integrate with wireless solutions for immediate start each presentation from multiple presenters' laptops and mobile devices, saving valuable meeting time and enhancing efficient productivity.
* Optional QCast and QCast Mirror dongles enable wireless presentation.
* Optional wireless dongle supports static picture mirroring.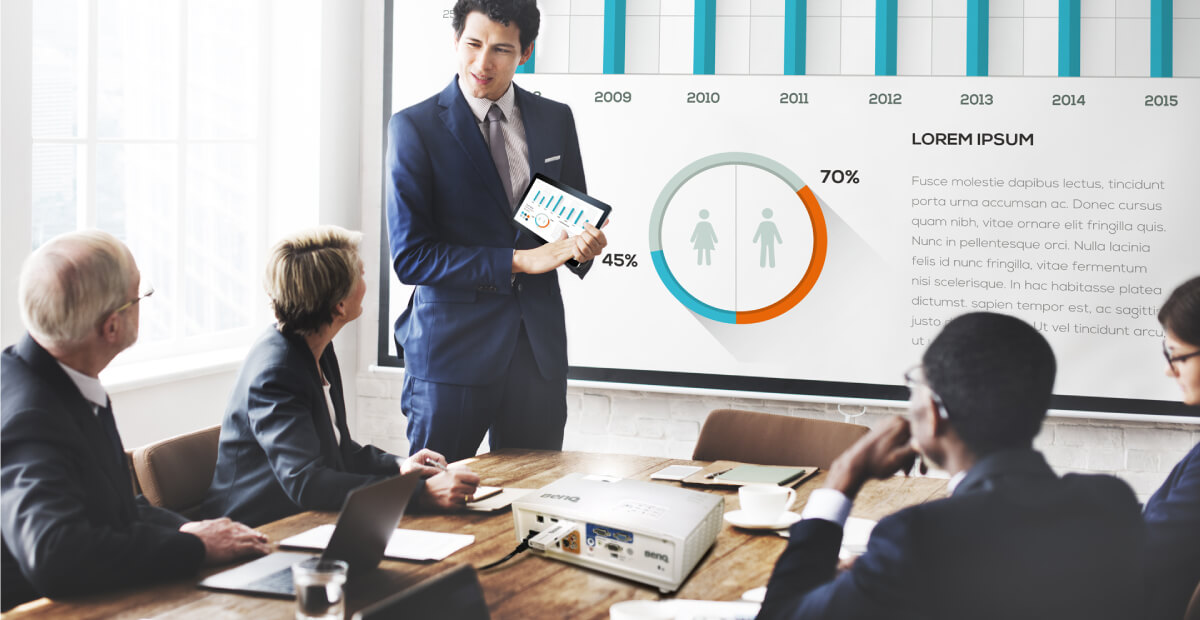 BenQ business projectors optimize every detail for productivity. One-touch QCast buttons on both remote control and projector keypad make it quickly start wireless streaming. The QCast dongle is even designed for plug-and-play in a hidden port to eliminate clutter.
* Optional QCast and QCast Mirror dongles enable wireless presentation.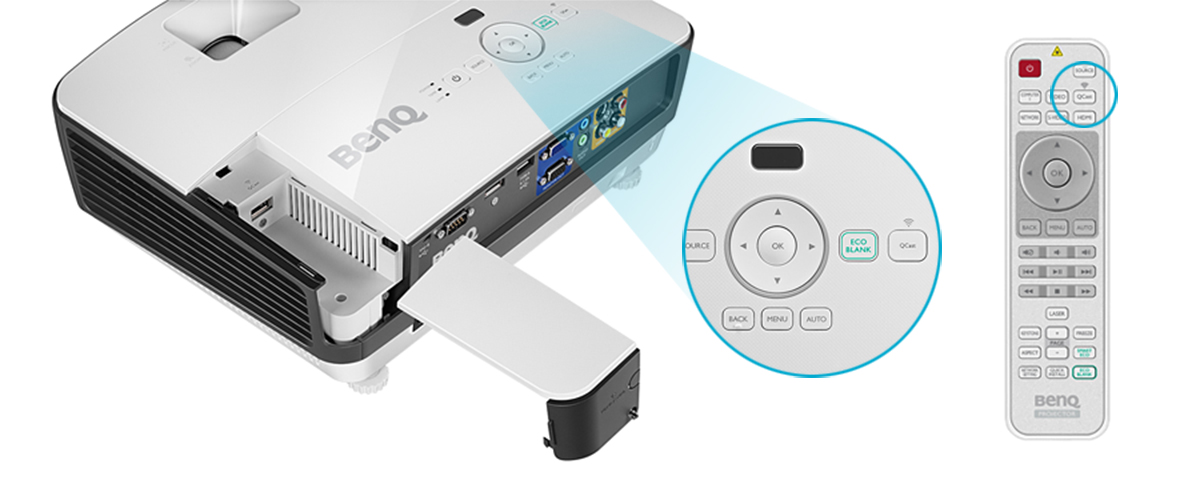 Integrated 1.5A USB Type-A Power Output
In addition to conveniently charging any mobile device, built-in 1.5A USB Type A power output empowers accessories such as wireless HDMI dongles without need for separate power adapters.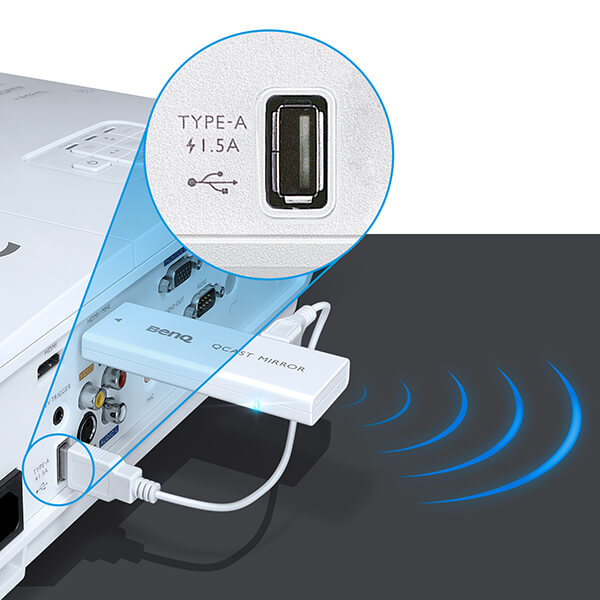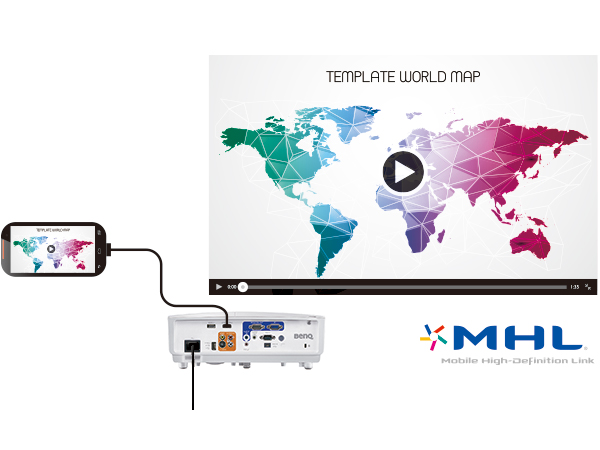 MHL connectivity lets Android smart devices mirror documents, photos, videos, or any other content via MHL cable to share ideas and presentations, while charging the mobile device at the same time. In addition, MHL powers compatible wireless dongles such as QCast for wireless presentations without additional USB power cables. 
Auto Vertical Keystone for Ideal Images
Countering the trapezoid effect when the projector must be placed off-center, such as simple placement on top of a table, auto vertical keystone function automatically adjusts the image for a professionally squared image. Auto keystone correction makes it easy to project ideally aligned images from a variety of locations.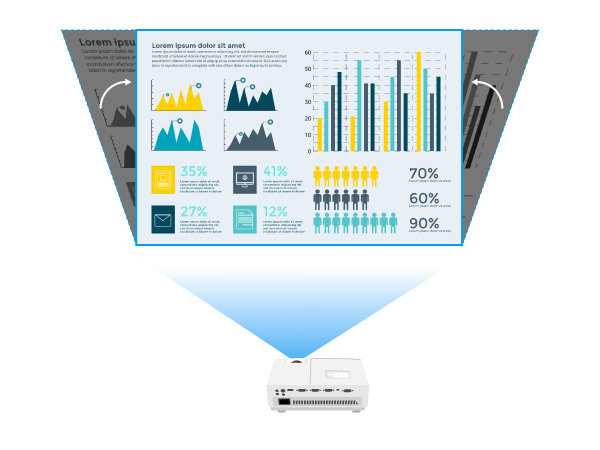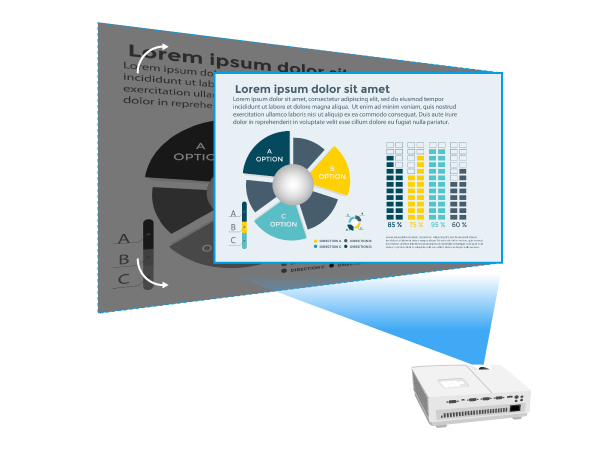 2D Keystone for Any Angle Alignment
Adjusting the projected image vertically and horizontally to correct trapezoidal distortion when the projector is tilted or placed off center, 2D Keystone compensates for any projection angle or position. The projector may be placed anywhere on a u-shaped table without hassle to enhance presentation freedom and optimal viewing experiences.
Corner Fit to Optimize Any Surface
A flexible and convenient way to align perfect pictures, Corner Fit adjusts each of the four corners of an image independently. When projecting on uneven spaces or restricted within a certain frame, Corner Fit corrects picture dimensions for professional results in any installation.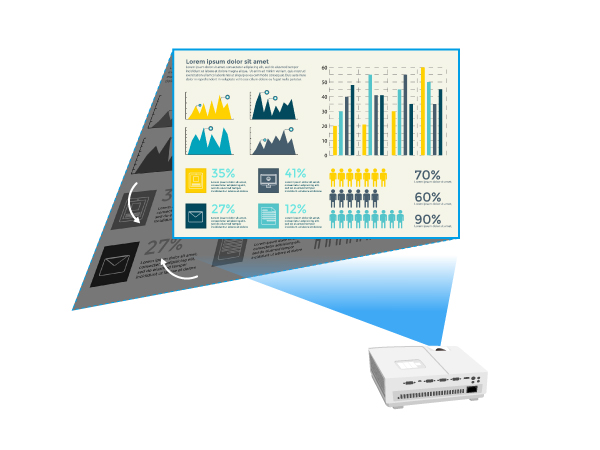 Power Saving, Eco Friendly Optimization
The BenQ Eco Cycle System eliminates electricity waste, reduces power-up wait time before and after meetings and minimizes maintenance for lower total cost of ownership.
Eco Cycle System
A. SmartEco™ Mode: SmartEco™ Mode analyzes input content to determine the brightness required for optimal color and contrast performance, conserving up to 70% lamp power while delivering the finest image quality without compromise.
B. Eco Blank Mode: When the projector detects no source content, Eco Blank Mode automatically actives after 3 minutes of inactivity to eliminate distractions and save energy.
C. Auto Power Off: BenQ business projectors power down after 20 minutes of inactivity to eliminate energy waste and concerns for teachers of leaving the equipment on.
Quick Tips: Eco Blank Mode and SmartEco Mode can be activated directly using the remote control.
0.5W in Standby Mode
When inactive, BenQ business projectors keep power consumption to a minimum with 0.5W standby power, maximizing energy savings when the projector is connected but not in use.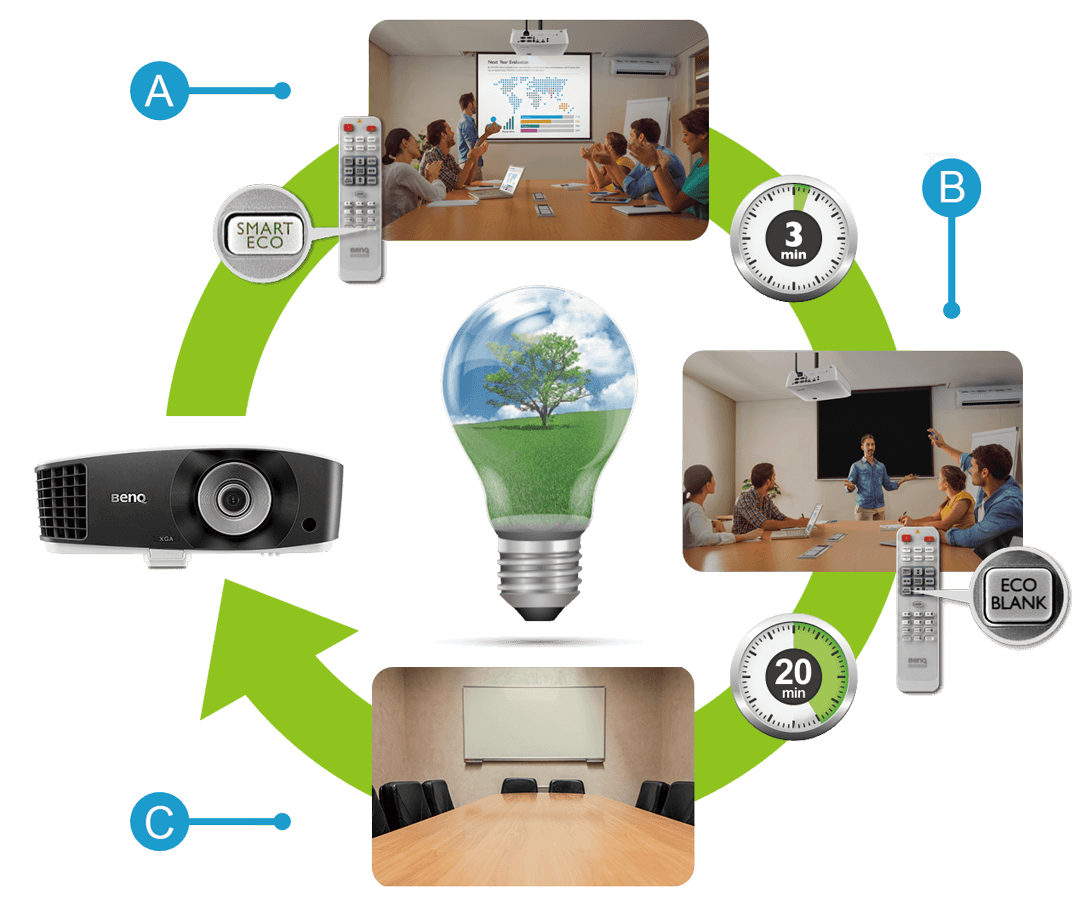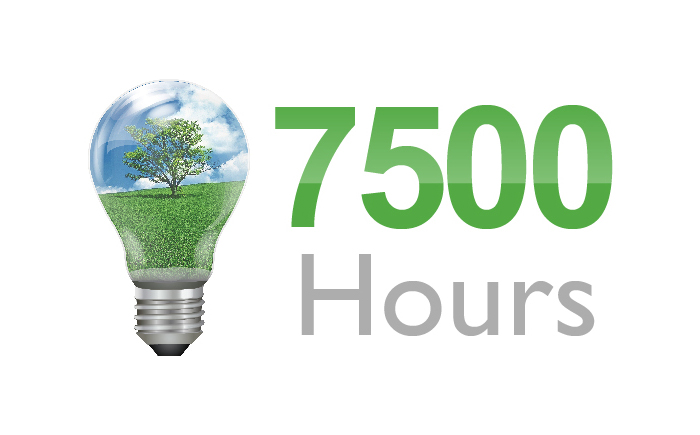 LampSave Mode
Fewer lamp replacements and maintenance translates into an overall lower cost of ownership. LampSave Mode adjusts lamp power dynamically according to content to extend projector lamp life up to 50% compared to normal mode.
---
Share this Product